Home

3GP/MP4/PSP/iPod Converter

How do I transfer music to my PSP?
How do I transfer music to my PSP?

PSP has many features that can watch videos, play games, listen to your favorite music and more! If you want to listen to your favorite music on PSP, you will be very interested in knowing how to transfer music to PSP. When some people bought a new PSP, they may also cry:" oh, how do I transfer music to my PSP?" Don't worry but it is very easy and here we are going to explain to you how you can transfer your music files to PSP. No matter what formats of songs you have now, such as AVI, MP4, MP3, WMV, etc. WinAVI iPod/PSP/3GP/MP4 Video Converter can transfer any format of your music to play on PSP.
Step1: If you have MP3 now, it is easy to transfer. Please follow this below.
At first, Connect the PSP to your computer with the USB cable and turn on the PSP, then go to the settings and put the PSP on USB mode.
Second, Enter to the "My Computer" and a new drive appear as "Removable Disk", then enter to the "Removable Disk".
Third, Go to PSP\\Music\\ and copy MP3 files into this music folder.
At last, Disconnect your PSP safety from the computer and then you can enjoy your music.
Step2: If you have other formats and want to transfer them to PSP. First of all, please free download the PSP converter.
Step3: Click"Convert to PSP" button, choose all the music files you want to play on PSP, and click "Ok". You can also import much more music files to batch convert.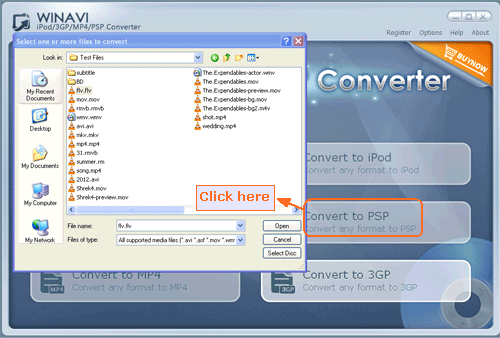 After this, please click the green "Start" button to convert your music to PSP formats and then transfer them to your PSP just like step one explained before.
Readers also visit these :
Related Questions :