Home
3GP/MP4/PSP/iPod Converter
Buynow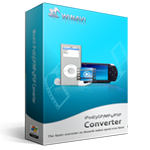 WinAVI 3GP/MP4/PSP/iPod Video Converter
Price:
$39.95
49.95
All-In-One solution: iPad/iPhone/iPod/PSP/3GP/MP4 converter
Now get the license: Only need $39.95
Operating Systems: Windows 8/Windows 7/Vista/ XP
Payment options:
The latest release software
All-In-One Converter
WinAVI All-In-One Converter is a best & fastest all-in-one video conversion tool.
Mac Blu-ray Player Software can help Blu-ray fans fully enjoy BD on all Mac OS .
Users Reviews
So far the program is amazing! I have converted a couple of 50GB BD ISO to MKV files at under 3GBs!! Thanks!
- McGeary
Awards by Tucows