Home

DVD Ripper

How to transfer DVD to iPad?
How to transfer DVD to iPad
In order to transfer DVD to iPad, nowadays there are too many tools such as a video converter or a DVD Ripper that can convert or rip and transfer DVD to iPad. However, before we use this video tool, we need to know some knowledge about DVD and learn from the difference between the video converter and DVD Ripper.
Normally, most of DVD discs are encoded with copyright protections such as region code, css encryption. Therefore, you must have met DVD disc playing troubles if you bought a DVD from another country. That's caused by region code. So, in order to solve this problem, DVD ripper is designed to remove region code and css protection so that DVD fans can distribute and watch without any limitation. While for video converter, most of these programs only support convert DVD which has no copy protection.
Now If you are a Mac fan and have an iPad, I will tell you how to transfer DVD to iPad. Although DVD folder file can not be played on iPad, we can use WinAVI DVD Ripper to rip and transfer DVD to iPad directly. Even though you don't know what format can be compatible with your iPad, you can also ignore this problem and just rip DVD disc and transfer DVD to iPad through several steps. For the detailed steps, you can learn from the article how to rip DVD to iPad.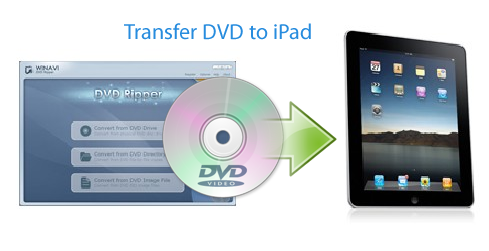 Readers also visit these :
Related Questions :