Home

Mac Blu ray Player

How to Play Blu-ray on iPod
How to Play Blu-ray on iPod Touch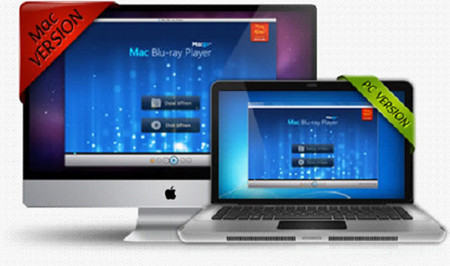 Blu-ray is the only widely-used HD format for optical media and capable of supporting 1080p video. So far, there has been an increasing demand among Apple fans to enjoy Blu-ray videos on their mobile devices. With the release of Mac Blu-ray Player 2 serial versions, this problem has been solved by adding in a core technology--AriX. And Mac Blu-ray Player can play any Blu-ray video on iPod Touch and other Apple devices wirelessly and ultrafast. A splendid Blu-ray entertainment will be provided. Get a Mac&PC,a iPod touch ( ISO should be 3.0 or later) and a optical drive, and make sure that the Mac/PC and iPod touch are connected to the same Wi-Fi.
Preparations:
Mac/PC, iPod Touch, Mac Blu-ray Player, Optical drive (internal/external with USB above 2.0), Network Connection (Make sure that both devices are connected to the same Wi-Fi environment)
You can follow the steps below.
Step1: Free download Mac Blu-ray Player
Both Mac and Windows version are available, download the appropriate one, install and run it.
Step2: Enable AriX
Before open any files, you should enable the AriX option under the "Tools" menu first.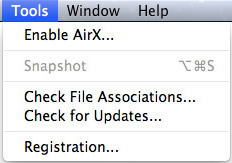 Step3: Open Blu-ray Player
Click on "Open File" or "Open Disk" button to load the Blu-ray. After a little while, the screen will go black and then you can get the website URL "http://airx.tv".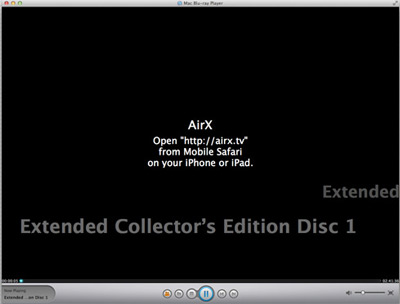 Step4: Play Blu-ray videos on iPod
Open "Safari" in you iPod and then input the URL into the address bar. Then the loaded Blu-ray source will be listed, you can enjoy it on you iPod.
Step5: Save
After watching the movie, you can save this address as a shortcut on your home screen. In details, you can press the save button and select "Add to Home Screen" option. Done.
Users Reviews

Mac's won't recognize Blu-ray devices because Apple chose not to support them in OS X. That's no longer the case thanks to Mac Blu-ray Player.

- Softonic Editor
Awards by Softonic