Home
Mac Blu ray Player
Buynow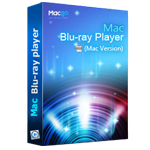 Mac Blu-ray Player V2.7.7
Price:
$39.95
59.95
Best Blu-ray Player Software for Mac.
All in One Mac Media Player solution.
Operating Systems: Mac OS X 10.5+ to 10.8
Payment options:
The latest release software
All-In-One Converter
WinAVI All-In-One Converter is a best & fastest all-in-one video conversion tool.
Mac Blu-ray Player Software can help Blu-ray fans fully enjoy BD on all Mac OS .
Users Reviews
Mac's won't recognize Blu-ray devices because Apple chose not to support them in OS X. That's no longer the case thanks to Mac Blu-ray Player.
- Softonic Editor
Awards by Softonic