Home

Mac Blu ray Player

Mac Blu-ray Player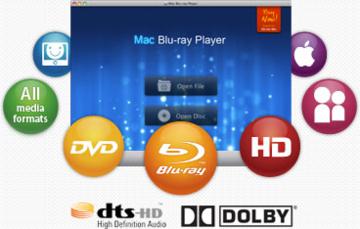 Why we choose Mac Blu-ray Player
Mac Blu-ray Player, as its name implies, is no doubt a Blu-ray Player. And it is the world's first Blu-ray player for Mac and its came-into-being closes the chapter of Mac's inability to paly Blu-ray disc.


What does Mac Blu-ray Player do for us ?
But the merit of this tool is far more than that. The fact that it is the very first Blu-ray Player for Mac makes it good. But the all-media-format-support character makes it better. It is a universal media player that can support all media formats, including Blu-ray, DVD, VideoCD, MOV, MKV, AVI, FLV, WMV, MP4, MPEG, RMVB, MP3, WMA, AAC, AC3 and more.
Mac Blu-ray Player Add DTS 5.1
Apart from the outstanding performance mentioned earlier, there are more surprises for you to experience. The outputting video remains HIGH-definition quality without any loss of data and frame, which is guaranteed by the DTS5.1. All audio tracks, sub streams, chapter markers and videos are fully preserved. It also supports NVIDA's CUDA acceleration technology.
Mac Blu-ray Player can Play Blu-ray movie on your iPhone , iPad and iPod Touch
What's more, the fantastic experience brought by Mac Blu-ray Player is not confined on the desktop. In the newly updated versions, this program can make Blu-ray playable on Apple devices, including iPhone/iPad/iPod Touch through its core technology-AriX. Just make sure your devices and your computer are under the same Wi-Fi environment.
One more thing to say, both Mac & PC system are supported!
Users Reviews

Mac's won't recognize Blu-ray devices because Apple chose not to support them in OS X. That's no longer the case thanks to Mac Blu-ray Player.

- Softonic Editor
Awards by Softonic