Home

All in one Converter

How to fix audio video sync with WinAVI
How to fix audio video sync with WinAVI
Sometimes WinAVI users maybe have met the audio video sync troubles in AVI, MP4 or other video formats of output and need to fix audio video sync. Actually, WinAVI programs have already provide some ways for fixing audio video sync. This article shows several solutions to fix audio video sync problem on your own.
1. If you are not using the latest version, please download the latest version.
2. If you find the video is faster than the audio, please cancel the speed preference mode when converting. (This solution can not be used for the versions below WinAVI Video Converter 11.0, 3GP/MP4/PSP/iPod Converter 4.1.)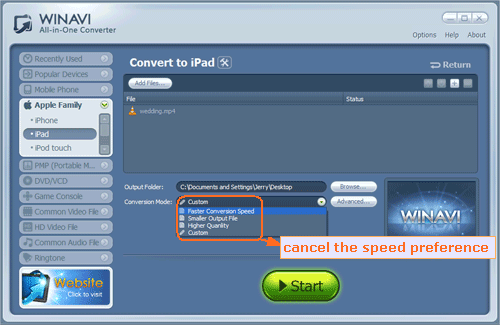 3. If you convert to video from a DVD disc with WinAVI All In One Converter and WinAVI Video Converter rather than WinAVI DVD Ripper, please copy the DVD folder file to your PC at first, then check whether it can be played normally. If it is normal, please go on converting this DVD folder file. Note that DVD disc may be encrypted with region code or other CSS copy protections, so if you are failed to convert from disc or find audio video sync problem, the only way is using WinAVI DVD Ripper to rip and convert this kind of DVD.
4. When you find terrible audio video sync on output or crash every time when loading or converting, please follow the below steps to fix audio video sync or crash problem. (This solution also can not be used for the versions below WinAVI Video Converter 11.0, 3GP/MP4/PSP/iPod Converter 4.1.)
Step 1: Download codec and install on your PC before converting, and then start and run WinAVI programs.
Step 2: Click "Options" on the right top of the interface.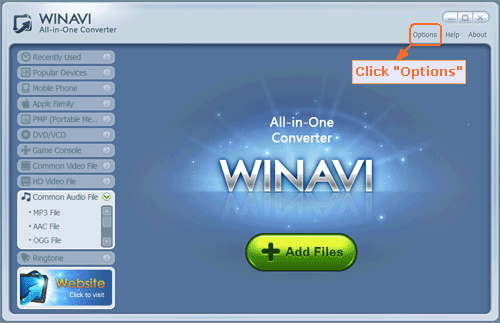 Step 3: Click "Advanced" and then you can see the advanced options, please tick the box of "Use DirectShow decoder preferentially " and cancel another option at the same time or both use them together.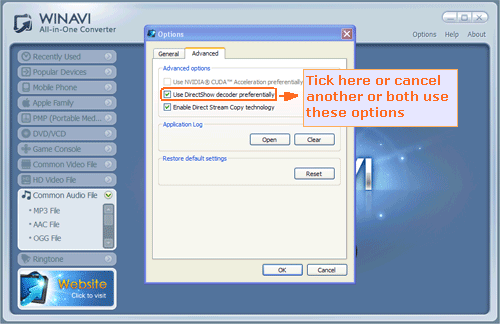 Step 4: If you are still failed, please provide these below information and then submit to us via this on line form.
1. A sample clip of your original video. Please download the sampler tool to put into WinAVI installation directory and then double click this tool. Save your original video in a smaller clip size you wanted and then send us with writing your detailed problems, such as which program and version, what formats you convert, your operating system information, etc.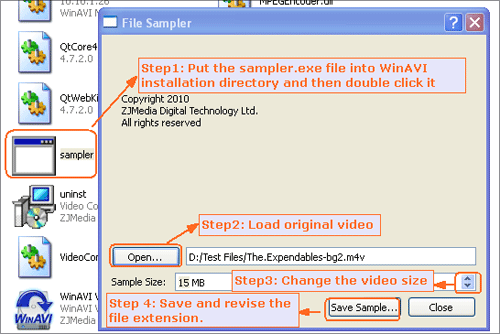 2. Debug. Log file. Please click the "Options " on the right top of the program interface and then click "Advanced ", then you will see "Application log". Click "Open " button to get this debug.log file to send us with the your edited clips together . We will test your bug report and fix this issue as soon as possible.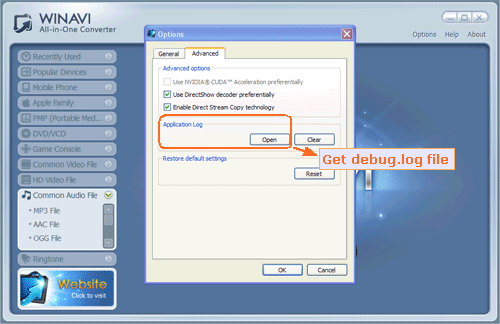 Related Questions :